What are Twitch Drops?
Twitch Drops are rewards given to people who view Twitch streams. So if you have linked your Twitch account to your Xbox Live account through the Sea of Thieves website, once you watch one of our selected streamers or the official Sea of Thieves stream during the given time-frame, you will receive an in-game cosmetic item!

When is the next event taking place and what will I be rewarded?
Please either visit https://www.seaofthieves.com/twitch-drops for the latest details surrounding our Twitch Drops or proceed to https://www.twitch.tv/drops/campaigns and from the 'All Campaigns' section click our latest event from the 'Open Campaigns' section.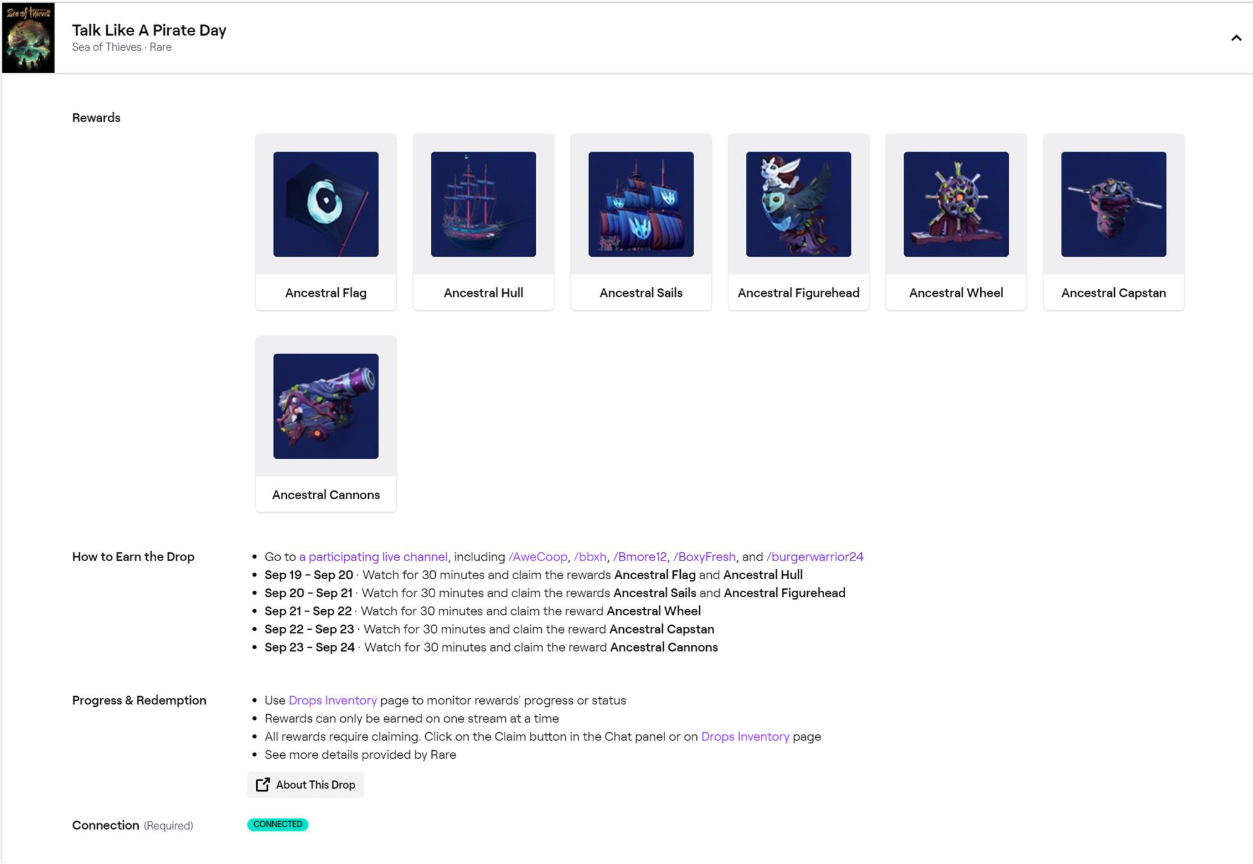 When and how will I receive my in-game Sea of Thieves items?
You will receive a notification on Twitch when you have been awarded the items. The items will then be added to your account, so all you need to do is log in to the game. If you are already logged in, you'll need to log out and log back in.
How do I sign up for Twitch Drops?
To get ready for Twitch drops, please click here.
If you are not signed in to the website already, you must sign in to the Xbox Live account which you use to play Sea of Thieves when prompted by clicking the 'LOGIN!' button and entering your details accordingly.
Once you are viewing the Twitch Drops page on the Sea of Thieves website, scroll down and you will notice the following prompt to link your Twitch account:
Click the option to 'Link Account'.
If you are not already signed into your Twitch account, you will now be prompted to sign in using the Twitch account that you will be using to view the required streams.
The final step with the linking process is to confirm the linking of your Xbox Live account to your Twitch account. Once you are shown the following screen, simply click 'Authorise'.
Please Note: You can also start the process of linking your Twitch account by going to https://www.twitch.tv/drops/campaigns on the Twitch website. Simply find our latest Campaign from the 'Open Campaign' section then click 'Connect'. You will then be prompted to then proceed through the linking process as is detailed above.
Is my account linked correctly?
If you are having issues receiving Twitch Drops, there are few ways in which you can check to make sure that your account is linked correctly. You can either:
Visit your Sea of Thieves account page, then scroll down 'Social Accounts' section. This will display the Twitch account which you have linked to Sea of Thieves as shown below.

You can also confirm your connection through Twitch. Proceed to https://www.twitch.tv/drops/campaigns then find our latest Campaign from the 'Open Campaign' section. Scroll to the bottom of the campaign and you should be shown the following 'Connected' confirmation.
How do I remove the link between my Twitch account and my Sea of Thieves account?
If you need to remove the links between your Twitch and Sea of Thieves accounts, you must ensure that you complete the following actions on both websites. As failure to completely remove all links between accounts can result in you not receiving your items if you wish to re-link later! To do this:
Proceed to https://www.seaofthieves.com/account signed into the correct Xbox Live account
Then scroll down to the 'Your Social Accounts' section and click 'Unlink Account' from the Twitch Area. Confirming this action when prompted.
Next access https://www.twitch.tv/settings/connections for your Twitch account and scroll down to the 'Other Connections' section. Find Sea of Thieves and click Disconnect. Once prompted, confirm that you wish to disconnect the link.
I didn't receive my item, where can I go for support?
It is important to check that the details used, such as the Gamertag which you linked to your Twitch account is the correct one. In order to resolve this, as well as other Twitch Drop issues, completing the above processes for unlinking and then resigning your account back up for Twitch Drops should solve the majority of problems: 
Please ensure that when viewing a Streaming Partner that you continue watching until the item reward notification is given within Twitch as we cannot manually grant these items after the event.


Note: Should you change your Twitch account password, you will be required to relink your Twitch account to Sea of Thieves.


Additional Reading
How to Discover and Claim Drops on Twitch